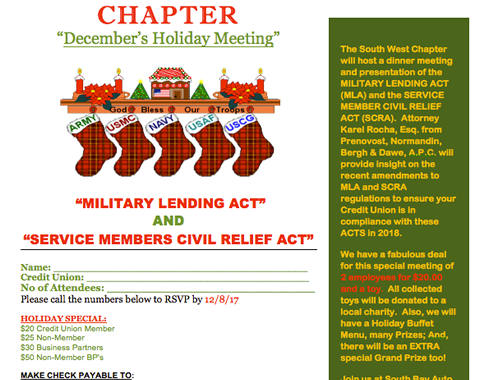 SPEAKING ENGAGEMENT: California Credit Union Collectors Council – South West Chapter
Wednesday, December 13, 2017
Subject: Military Lending Act And Service Members Civil Relief Act
6:00 PM Registration & Networking" color="yellow"]The South West Chapter will host a dinner meeting and presentation of the MILITARY LENDING ACT (MLA) and the SERVICE MEMBER CIVIL RELIEF ACT (SCRA). Attorney Karel Rocha, Esq. from Prenovost, Normandin, Dawe & Rocha, A.P.C. will provide insight on the recent amendments to MLA and SCRA regulations to ensure your Credit Union is in compliance with these ACTS in 2018.