Welcome to Prenovost, Normandin, Bergh & Dawe
A Full Service Civil Litigation Law Firm Headquartered in Orange County, California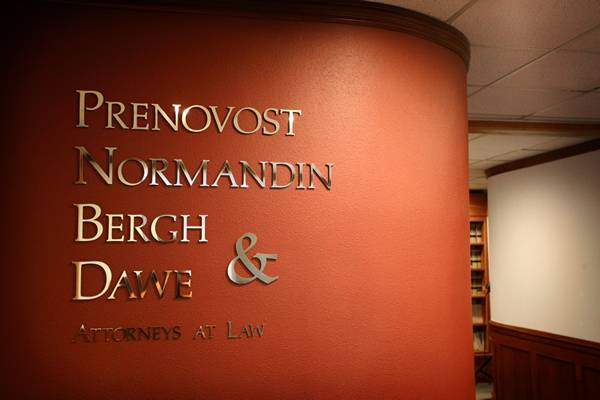 SERVING ALL OF CALIFORNIA
Prenovost, Normandin, Bergh & Dawe, A Professional Corporation, was founded in 1983. The firm is "AV" rated by the National Lawyer Rating Service at Martindale-Hubbell and is ranked "preeminent" in the field of Civil Litigation, Banking & Bankruptcy. PNBD specializes in Banking, Construction, Credit Unions, Insurance, Financial Services, Realtors, Automobile Lending and Dealerships.
OUR CREDO
We share the belief that it is an honor and a privilege to practice law. In attempting to attain our goal of providing our clients the best possible representation, we strive always to be mindful of the highest professional and ethical standards of the bar.
We know that our success is never measurable in dollars, but rather is a function of our unwavering adherence to the principles of honesty, integrity and dignity in the discharge of our professional responsibilities.
In earning and keeping the trust of our clients, the bench, our peers and each other, we have the confidence to diligently and aggressively meet the challenges we face with the clarity of vision and peace of mind that comes naturally from living our lives in accordance with the principles we hold dearly.
ANNOUNCEMENTS
2015 CONGRATULATIONS Mr. Thomas Prenovost
Mr. Prenovost has been selected to be part of the 2015 Irish Legal 100, a listing of the leading figures in law across the United States. In late October there will be a special print edition of the Irish Voice Newspaper featuring the 2015 Irish Legal 100 honorees. The exclusive fall event and award ceremony will be held at the home of the Irish ambassador (by special invitation only). The specifics of the event will be announced in August.
BENJAMIN GRIFFIN, PARTNER, PRENOVOST, NORMANDIN, BERGH & DAWE, A.P.C TO SPEAK AT THE KNOWLEDGE GROUP'S LIVE WEBCAST
PNBD OPENS ARIZONA OFFICES
Prenovost, Normandin, Bergh & Dawe, A Professional Corporation, is very proud of making the 2015 list, Orange County's Top Law Firms as published in the Orange County Business Journal. Prenovost, Normandin, Bergh & Dawe was ranking in the top 50 the previous five years also.